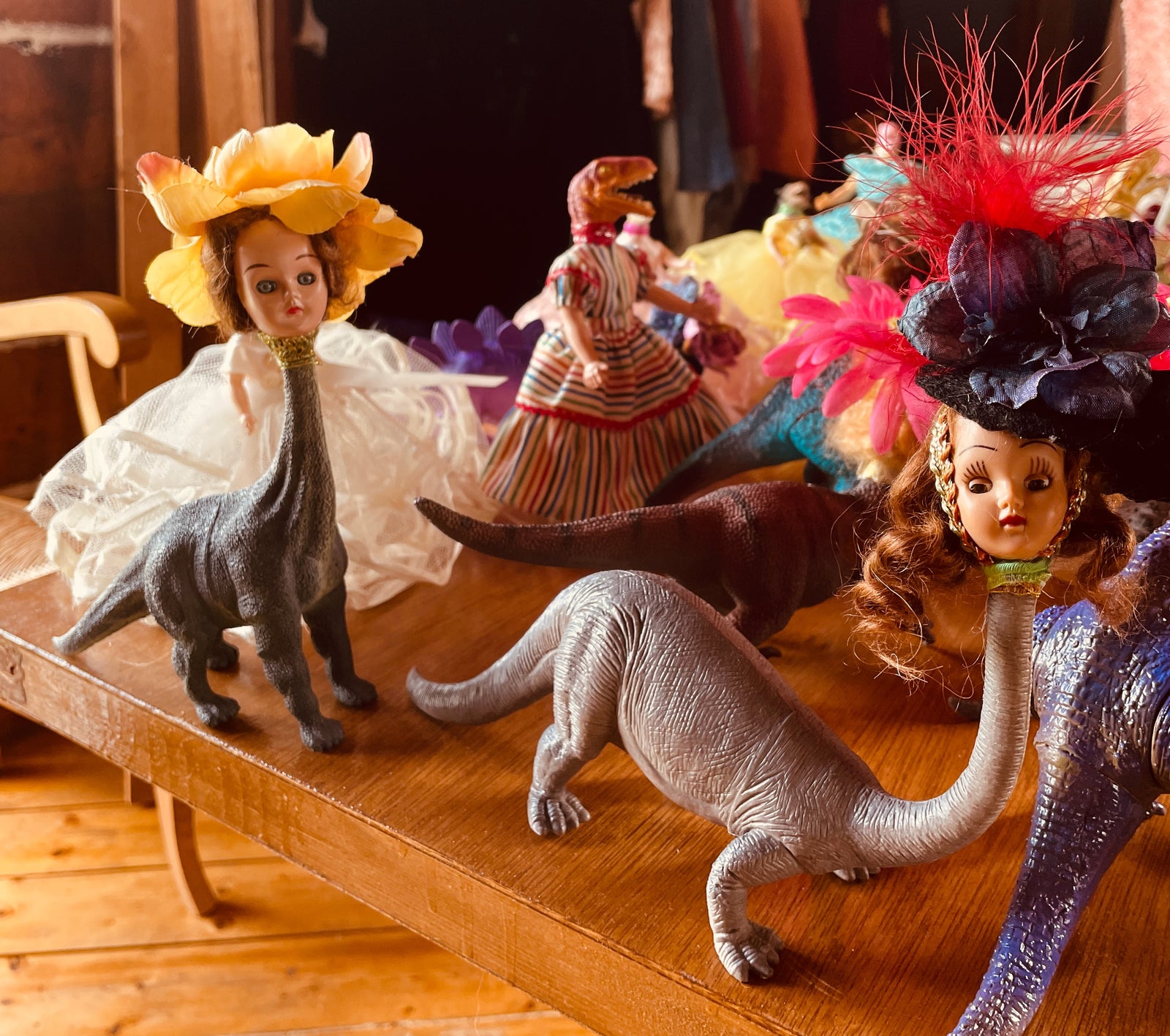 A friend here in the rural Colorado mountain valley I now live in, referred to the dolls I make, as a type of art activity called "Mojo". A kind of mashup, like myself. I am an East Coast city girl with roots to the Deep South, but my heart and home found its place in the West, the land of open spaces and adventure. 
As a teen I was obsessed with fabric and fashion, carting duffle bags of collected materials for potential modification as I bounced from one parent to another. In the early 90's I started making shrines around vintage photographs of scowling toddlers, integrating architectural components such as rusted metal, crab shells, feathers fabric, beads, birds nests, camera lens, bike gears and whatever else sparked my interest. As a  pastry chef I was similarly obsessed with the integration of assorted flavors and textures, improvising as I went with the materials on hand. 
My husband, Chris Craig, accidentally launched me on the path of making anthropomorphic sculptures when he was inspired to attach a paper mache Chinese head with enormous eyebrows on the body of a Chihuaha bobble head doll. The effect was both creepy and magical and I was hooked. Over time I gravitated towards dinosaurs as one of my mainstays especially when paired with vintage sleep-eyed doll heads. I began falling into the world of Morphodonia where adaptive creatures blurred the boundaries between human and beast, reality and fantasy - and I never looked back. 
But art is just one of my outlets for expression. My art has been both inspired by and the catalyst for a variety of community projects that I have been involved in. It originates in my stubborn belief in the resilience and inspiration of the underdog, personal perseverance and community transformation. The dolls represent expressive freedom across cultural, spiritual and gender norms. When you get down to it, we are nothing more than a mashup of our own experiences. 
---